Yu Tamaki
International Soloist
---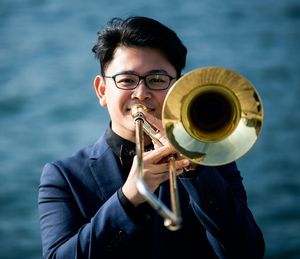 A Japanese Solo Trombonist active worldwide, Yu Tamaki expands his diverse activities from being a trombone soloist, to a chamber and orchestra musician, educator, entrepreneur, author and producer. An official artist for Pro Arte Musicae of Tokyo, S.E.Shires Company of the USA and willie's Custom Brass of Yamanashi, the Music Director of FukuTama Festival of Shimane, Yu currently resides in Denmark.
In January 2018, Yu has departed from his Danish orchestra position to concentrate on his full-time soloist career. Ever since, he has been actively traveling between the continents for various engagements.
His recent years' highlights include: solo recitals, concerto appearances and masterclasses around the world; trombone duo performances with Joseph Alessi (NYP), Ian Bousfield (soloist), Stefan Schultz (Berlin Phil), Peter Sullivan (Pittsburgh Sym) and Colin Williams (NYP); solo recital invitations to the International Trombone Festival in the USA and Japan, creative collaborations with Keisuke Ogido (Ristorante Arte Simposio), Anna Irite (dancer), Yo Yumura (Sanada Co.), Kenichi Aoyama (painter/videographer); commissioning new works to the world renown composers such as: Samuel Adler, Yasuhide Ito, Miho Hazama, Geoffrey Gordon and Minako Seki, aiming for progressive expansion of musical language of solo trombone. 
During 2021-2022 season, Yu plans to release his 3rd album "JAPONESQUE", Solo Recital Series around Japan, Concerto Appearances with Osaka Shion Wind Orchestra, Solo recital at International Trombone Festival 2022 in the USA, his 1st USA tour to the prestigious institutions such as the Juilliard School, Manhattan School of Music, Cleveland Institute of Music and 20 others.