Isrea Butler
---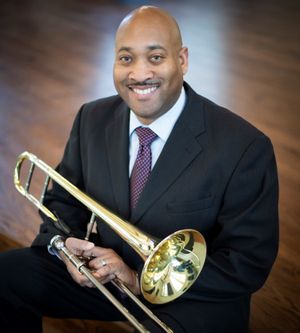 Dr. Isrea Butler has obtained multiple degrees in trombone performance from the Eastman School of Music (BM and MM) and Rutgers University (DMA). His teachers include Dr. John Marcellus, Ralph Sauer, George Roberts, Tom Ervin, Michael Powell, and Weston Sprott.   
 
 As well as being a founding member of the Gateways Brass Collective, he is the lead trombonist of the Legendary Count Basie Orchestra and has performed with many of NYC's top jazz ensembles. In addition to orchestras and jazz ensembles, he has played trombone and tuba for eight NYC Broadway productions. Currently, he is the Music Department Head at Valdosta State University. He was the Music Department Chair at North Carolina Central University and Professor of Trombone from 2017-2021. He served as the Director of Bands and music program coordinator at The University of Maryland Eastern Shore and Director of Jazz Studies and Low Brass at the University of Mary. Dr. Butler was also the Visiting Assistant Professor of Trombone at Jackson State University where he taught trombone, conducted the University Brass Ensemble, and Jazz Combo, and taught Graduate Music History. He has also taught at the Eastman School of Music, Juilliard School of Music MAP, and Rutgers University. His students have gone on to perform, teach and study at graduate schools such as Indiana University, Berklee, UNI, Rutgers, Eastman, University of Memphis, Towson University, and Montclair State. 
 
As a conductor, Dr. Butler has been the conductor of the UMES Wind Ensemble, HBCU Trombone Choir, Associate Conductor of the Brighton Symphony, and Eastman Trombone Choir and Brass Guild. He studied conducting with Dr. Jeff Jordan, Brad Lubman, Dr. William Weinert, Dr. Mark Scatterday, and Kynan Johns. While in NYC, he was a frequent performer on numerous Broadway shows and many other prestigious musical performances. He has toured, recorded, and performed with many of the country's leading jazz orchestras including Cab Calloway, Count Basie, Duke Ellington, Lionel Hampton, Mingus Big Band, Glenn Miller, Birdland Big Band, Chico O'Farrill Afro Cuban Jazz Orchestra, and the Jimmy Heath Orchestra. Also, at home playing classical music he has performed with the Orchestra of St. Luke's, Rochester Philharmonic, Buffalo Philharmonic, Gateways Music Festival Orchestra, and the Colour of Music Festival Orchestra. Dr. Butler is a Conn-Selmer clinician and performing artist. 
James Nova
---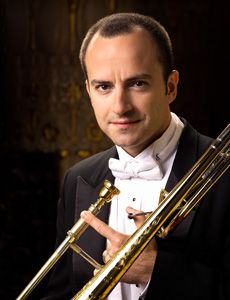 My love for all musical things Star Wars began a long time ago, in a galaxy far, far away… As a six-year-old child, my father took my brother and me to see The Empire Strikes Back. Even at that age, I was overwhelmed with how important the music was to the story telling, and thus began my lifelong love of the incredible scores of John Williams.
A few years later, at age nine, I began playing the trombone in my home state of Connecticut. As a child I received my early musical exposure and training from my father, Anesti Nova. During high school, I studied with my first private trombone teacher, Assistant Principal/Second Trombonist of the Hartford Symphony, George Sanders.
After graduating high school I attended the prestigious Curtis Institute of Music in Philadelphia where I received my bachelor's degree studying with Glenn Dodson, who was Philadelphia Orchestra's Principal Trombonist at the time. This is where the seed of this album A Fall from Light to Dark  first began to grow. When I was a student at Curtis, Mr. Dodson would hold epic trombone get-togethers called, "Bone Bashes" where the Curtis trombone students and the Philadelphia Orchestra trombone section would play through incredible arrangements and transcriptions of all kinds of pieces. This where I first started to create my own trombone ensemble arrangements and transcriptions. Mr. Dodson's Han Solo like swagger was contagious as we would tackle these pieces.
I then moved to Boston to pursue a Master's Degree on a full scholarship at the New England Conservatory of Music, studying with Norman Bolter who was Second Trombonist of the Boston Symphony Orchestra and Principal Trombone of the Boston Pops Orchestra at the time. It was during this time that Mr. Bolter fostered my "Start with what you can do" attitude that I still use today, in both my own artistic development as well as with my students. He truly was, and still is, my master Yoda in so many ways.
After finishing my master's degree, I freelanced in Boston for several years, substituting on a regular basis with the Boston Symphony Orchestra and the Boston Pops Orchestra, making several recordings and television broadcasts with both groups as both principal and second trombone. It was here in Boston that my musical path first crossed with John Williams! I had the opportunity to perform with him on countless Boston Pops concerts and even performed on the world concert premiere of the concert suite from Star Wars Episode 1: The Phantom Menace.
In 2001, I moved to Salt Lake City to join the Utah Symphony Orchestra where I played for eight seasons. In my first season there, I was thrilled to have the chance to record the John Williams theme to the 2002 Winter Olympics, with the composer on the podium! It was during my time in Utah, playing with the trombone choir UUTE (Utah's Ultimate Trombone Experience) with my Utah Symphony bass trombone colleague, Rusty McKinney on the podium, where I began to delve into transcriptions of John Williams' scores for trombone choir. This was another step towards this album coming together.
In the Fall of 2009, I joined the multi-Grammy-winning Pittsburgh Symphony Orchestra as its Second/Utility Trombone. Here I again crossed paths with John Williams as he conducted a sold-out performance. When he saw me backstage, he looked at me puzzled and said, "Wait Jim…you're here now?" I laughed and said, "It's part of the Trombone Witness Protection Program; they move us from orchestra to orchestra." He laughed and replied, "Well this is an incredible orchestra. Congratulations on joining its ranks."
Finally in 2012, I was preparing for another season with the Pittsburgh Symphony. I thought a fun way to get into shape would be to overdub (or "Novadub") one of my John Williams trombone choir transcriptions. I chose my transcription of the Superman March as my first effort. I posted it on SoundCloud. Fast forward to now and my SoundCloud page has passed 600,000 listens! I decided it was time to make an actual commercial album and set out learning the art of mixing and mastering, which brings me to this project: A Fall from Light to Dark. Through the chosen moments of John Williams' masterful scores, this album musically chronicles the rise and descent of Anakin Skywalker as he transforms into Darth Vader.
This album represents the culmination of a lifetime of preparation and five years of dedicated work. I could not be more thrilled to share with you this journey… my journey… from a trombone Padawan… to a Novadub Jedi Master.
When he's not in stage at Heinz Hall with the Pittsburgh Symphony, Jim can be found at Duquesne University where he is Brass Coordinator and Adjunct Trombone Faculty or as the Brass Coach of the Three Rivers Young Peoples Orchestras. Jim is an S.E. Shires Artist and performs on Greg Black Mouthpieces. Visit Jim's website, www.jimnova.com, or SoundCloud site, www.soundcloud.com/jimnova, for more info.